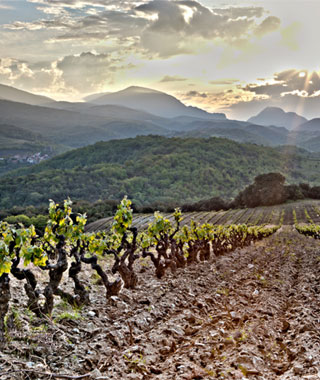 Biodynamic vineyards
Biodynamics take organic viticulture further by, in addition to avoiding chemical pesticides and herbicides, working to harness cosmic forces to aid with vineyard and cellar practices.
In total our domaine has 22 hectares under vine. They are located in the communes of Saint Martin de Fenouillet, Feilluns, Saint Arnac and Le Vivier.
The majority of our vines are planted on a subsoil of granite, with a topsoil of decomposed granite. Some vines are planted on a subsoil consisting of black schist and here the soil is much heavier in character.
On average the vines were planted in 1977, with our oldest vines dating back to 1919. In fact, for some parcels we cannot be sure when they were planted...
Since 2001, we have worked all our vines without the use of pesticides nor chemical fertilisers. We respect the rhythms of nature, working within the lunar cycle. We allow the phases of the moon to influence when we apply treatments or carry out essential work in the vineyards.
Following biodynamic principles, we allow our vineyards to balance themselves and we plan to use our own, natural compost from our own composting station.
From 2009, we started working towards obtaining official organic certification (AB). We are now certified with Demeter.
White varieties (10 hectares, on average planted in 1987)
The distribution of the varieties is typical of the region. We have a good selection of traditional varieties (Macabeu, Grenache Blanc and Gris, Malvoisie du Roussillon) and imported varieties (Sauvignon Blanc, Marsanne, Roussanne, Vermentino).
These grape types have adapted extremely well to our high altitude vineyards, giving good yields of healthy fruit. At harvest we are able to pick the grapes at optimum maturity. The altitude of the vineyards and the cold summer nights ensure the fruit and resultant wines retain excellent freshness and acidity.

Macabeu 4 ha (on average planted in 1980)
Sauvignon 2,5 ha (1991)
Marsanne / Roussanne : 1 ha (2003)
Vermentino (Rolle) : 1 ha (1994)
Grenache Blanc : 0,5 ha (1990)
Grenache Gris : 0,5 ha (1957)
Malvoisie du Roussillon (Tourbat) : 0,5 ha (1984)
Red varieties (12 hectares, on average planted in 1968)
In addition to varieties that are traditional to the region (Carignan, Grenache Noir), we have also planted Syrah on the cooler sites. The warm days and cool nights during the summer allow the grapes to ripen steadily, so they conserve plenty of freshness and colour.

Carignan : 5 ha (on average planted in 1943)
Syrah : 5 ha (1994)
Grenache Noir : 2 ha (1973)